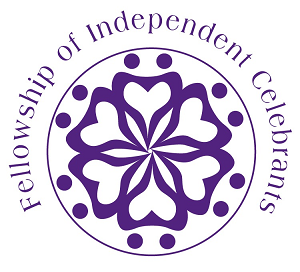 Funeral Information
About me and what I offer
Over many years that I have worked, it has brought me into contact with people who are mourning the loss of a loved one. I decided it would be lovely to help families or the executors of someone's will who are organising the final wishes of the person who has passed away, to create a service which reflects the personality of the person who has died.
A time of bereavement is a time of reflection to remember that special person in our life and celebrate all that enriched our life and the part they played within it.
It would be a privilege to create a service that reflects and celebrates the life of your loved one. They may have left full instruction, an outline or no details of their last wishes for their funeral service. I can either conduct the funeral following their wishes or create a service and then conduct it either at the crematorium, or at the graveside so that they or you have what you would like.
You might prefer a committal at the Crematorium followed by a memorial service and I can conduct both of these for you. Alternatively a burial may have been requested and there are various registered areas around Plymouth that this can take place.
I can come to your home to discuss your requirements and will give you a copy of the service after it has taken place.
About the Funeral Service
A service at the Crematorium usually lasts approximately 30 to 40 minutes dependent on which Crematorium is booked. In Plymouth it is 30 minutes which includes time to enter and leave the chapel, the service is 20 minutes long. A longer time can be booked and this would need to be discussed with the Funeral Director. Usually there is music, a reading, a form of prayer or poem the Eulogy or tributes and committal. If any member of the family or friend would like to be involved with any part of the service this is possible but the tight time constraints need to be remembered so I ask for a copy of what they will be saying to ensure the service runs smoothly. If longer time is required this is an option and would need to be discussed with the funeral director. If the service is a burial there is more flexibility on time and again this would need to be discussed with the funeral director as they may be attending another funeral afterwards. I work closely with the Funeral Director so that they know your wishes and ensure the funeral arrangements run smoothly.
Fees
The fee for me to create and conduct a funeral service is dependent on where the service is to be held and what venue has been chosen for it to take place and will be discussed after I know your requirements . If the venue is out of the Plymouth area there may be travel costs on top of the fee. If you require a committal service at the Crematorium and then a memorial service there may be an extra charge to cover time and travel. To discuss fees please telephone or email me using the contacts page. Payment will be required before the funeral.
---
For more information please telephone me on:
07841 373428
If I am unable to answer your call it will probably mean I am busy with another client, please leave a message with your name and contact details and I will return your call as soon as I can.
Alternatively please use the form below and I will get back to you as soon as possible:
Hours of business are:
Monday to Friday 9am to 5.30pm
Guidance
Crystal Therapy and Reiki are complementary therapies and are intended to be a supplement and not a substitute for professional medical care and treatment.
Should you have any concerns over medical problems or symptoms you should contact your doctor or health care provider.
I am not able or trained to diagnose and I cannot guarantee any medical benefits from these therapies.
For more information please telephone me on: 07841 373428